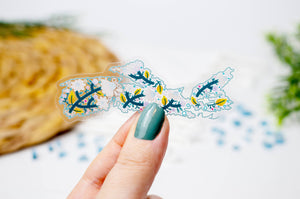 Nova Scotia Sticker
Printed Vinyl Sticker featuring an original illustration of of Nova Scotia from Paper Pattern Silk (NFLD). The sticker is clear with floral designs.
⦁ High Quality Professionally Printed in Canada
⦁ Waterproof, weatherproof, dishwasher safe.
⦁ Can be used outdoors. ⦁ Does not come with packaging. Clear Stickers are on white backing and are clear when removed.
⦁ Can be removed & residue easily cleaned up with hand sanitizer.
⦁ All artwork is copyright Monica Memory, please do not use without consent. 
SIZE: 3" x 2.32"