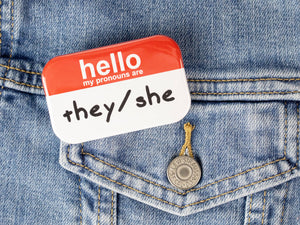 My Pronouns Are They/She Button
A fun take on a well known sticker that will let you show off your pronouns with pride! A great size to stand out with rounded corners to prevent any accidental jabs.
-----Specs & Physical Details-----
The buttons measure 1.75" height and 2.75" across. The designs are protected by a thin, but resilient mylar layer which makes them water resistant. They can be readily cleaned with a damp cloth as needed. The buttons have a metal pinback enclosure.
Made by Ifs, ands or Buttons in Ottawa, ON. 
Ifs, Ands or Buttons supports non-profit partners and community initiatives through donations, and is a founding member of ShowUp. ShowUp is a fund that aims to reduce some of the barriers for Black, Indigenous, and People of colour face when they look to participate in craft and vendor shows.