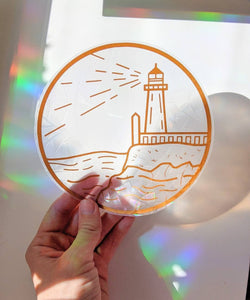 Lighthouse Suncatcher Sticker
Stick this decal on any bright window and watch as the rainbows pour in! 🌈 This suncatcher sticker adheres with static cling and a little bit of water, so it's perfect for rentals and dorms! It can easily be moved to follow the sun as it's rays change position in your home throughout the year.
6" in diameter.
Place it on a West facing window for afternoon rainbows, East facing windows for morning rainbows and south facing for rainbows all day long 🌈 The neutral bronze tone of this design will coordinate with all types of decor, making it an easy and great gift for your Maritimer, ocean loving friends!