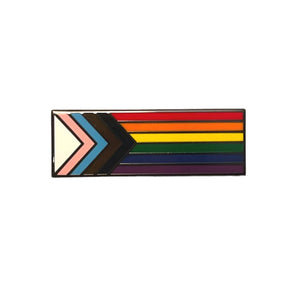 Progress Pride Rainbow LGBTQIA+ Pride Flag Enamel Pin
Progress pride flag enamel pin from Retrophiliac (British Columbia).
Eight coloured stripes stacked on top of each other to evoke a rainbow, a symbol of hope. pink for sex, red for life, orange for healing, yellow for sunlight, green for nature, turquoise for magic, indigo for serenity and violet for spirit.
1.5 inches in length x 0.39 high.
This listing is for the white pin with black text. 
Pins are designed by Retrophiliac in British Columbia. Margaux Wosk is an Autistic, Queer, Self-Taught activist, advocate, artist and designer. They aim to reduce the stigma of what disabled people are capable of through their items. It all started with the Neurodiversity Pride pin and has evolved to include many more items that inspire and bring joy.
 Pins are imported.