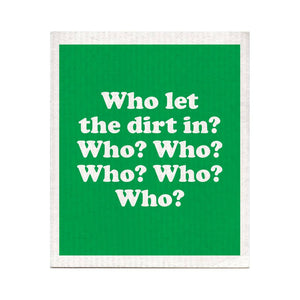 Who Let The Dirt In? Swedish Dishcloth
Just try getting this song out of your head! Who let the dirt in is inspired by Baha Men.
Dishcloth is made from 70% wood cellulose from FSC certified forests and 30% cotton. Perfect for household chores, from cleaning up spills to polishing. Can be used with just water, soap, or cleaners. Cleans counter tops, granite, stainless steel and glass. They absorb over 15 times their own weight and dry quickly. Compostable at end of life span. Measures 8"x7" and comes packaged in compostable clear bags.
Designed by Boldfaced Goods in Alberta